At the time I am writing this, we are coming out of the most severe lockdown as a response to Covid-19. While many have lost their employment, others have come to terms with working from home. Now that we are preparing to go back to our offices to work, there are some lessons to be learned from our work away from work - lessons in productivity, communication, and accountability that we can bring back to the office.

Communication

Email is great for communicating 1:1 - but it is a terrible tool for group collaboration. In a group setting, email is a broadcast, not an interactive communication. With Zoho Connect, you have feeds - just like in social media. Interaction is easy in feeds, as it is topically organised along a chronological timeline. In other words, the topics are sorted on a timeline, and all reactions/interactions are listed under the topic. You can set up to be notified for each post in the topics you follow, or you can keep your inbox clean and get a "daily digest".

Another great example of Connect over Email is the fact that the posts are available in one place, no matter when you joined the group. For new employees, there is a history available, then and there. With email distributions, it depends on when you joined the list, or the organisation, how much history you can see n the trails. With connect, it is neatly stored against the topics, and you can browse back as far as required - without anyone having to forward you into specific email trails. Plus - who doesn't like a few (thousand) less emails every week?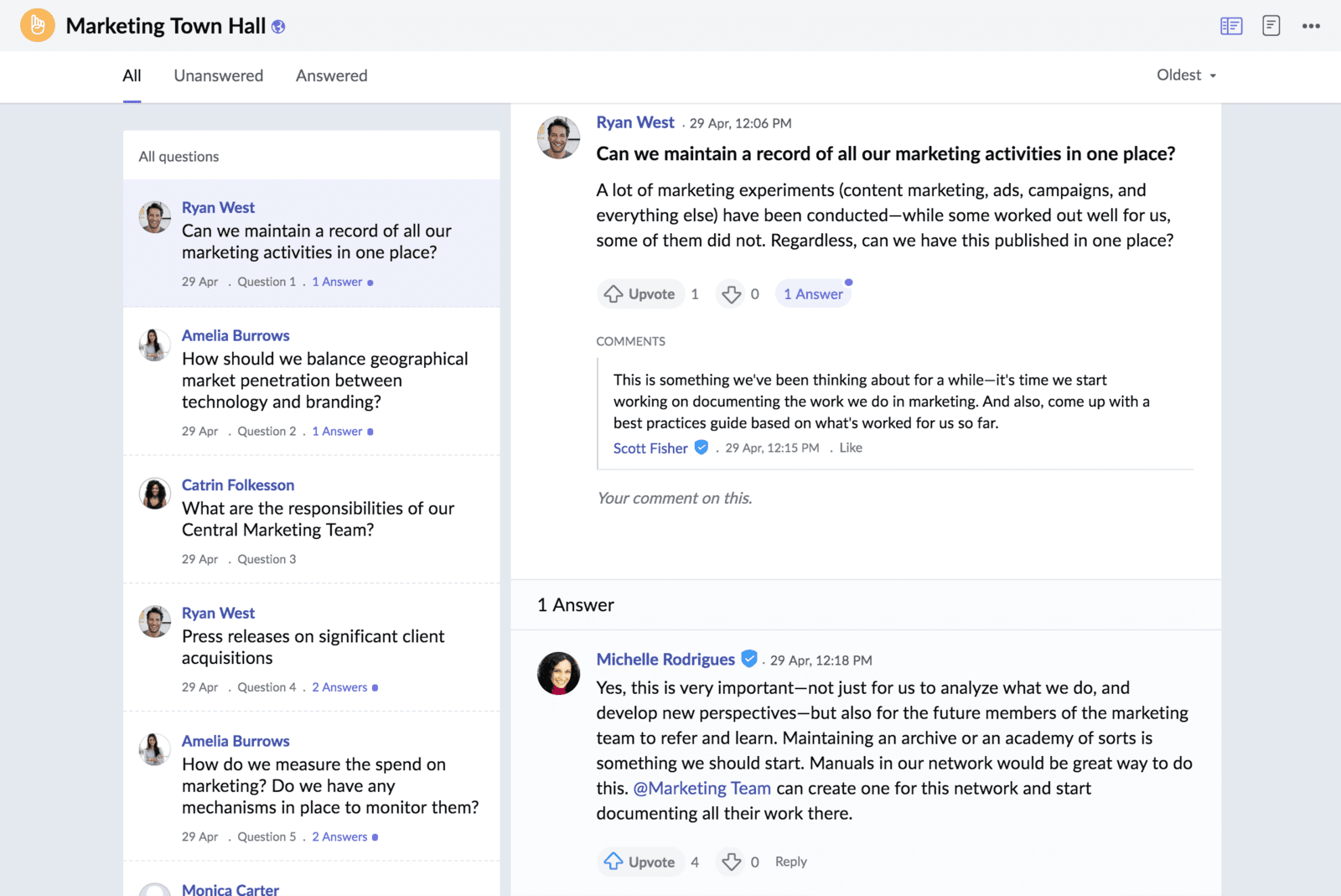 Communication can be offline/asynchronous - but also in the form of a massive online AMA (Ask Me Anything) or Town Hall. A Town Hall brings both the physical and the hierarchical distance between employees and senior management to an end. A Town Hall is not a top-down broadcast, but a general or "invitation only" forum to interact with senior leadership in a controlled fashion. Questions and answers can be given online in the Connect portal, or via a live broadcast/stage event. Since Connect is available on iOS or Android phones, you can have audience participation without having to go through public forums like Twitter.

The Town Hall can be kept available after the event, so those that were not able to participate can get a valuable update afterwards. Town Halls bring the organisation together to get understanding and alignment with regards to strategic and operational initiatives.

Collaboration

Getting things done - sometimes as simple as creating a personal task list - or when a team of people is working in collaboration towards the same goal - a full project plan and schedule. However, over 90% of the collaboration projects do not require a complex project management scheduling application. A simple collaborative task list would be more beneficial, as it increases the communication on tasks (who works on what, what's the status) without the overhead of building complex inter-dependency charts. Zoho Connect allows you to build group task boards, where you can collaborate with our team members on a specific goal. Simple and effective.

So - is connect yet another place to put your tasks? The answer is yes, but it is more. all your other tasks can be connected in Connect via the integrations, such as Office365, Asana, Google Calendar, Zoho Projects, Zoho Sprints, Trello, etc.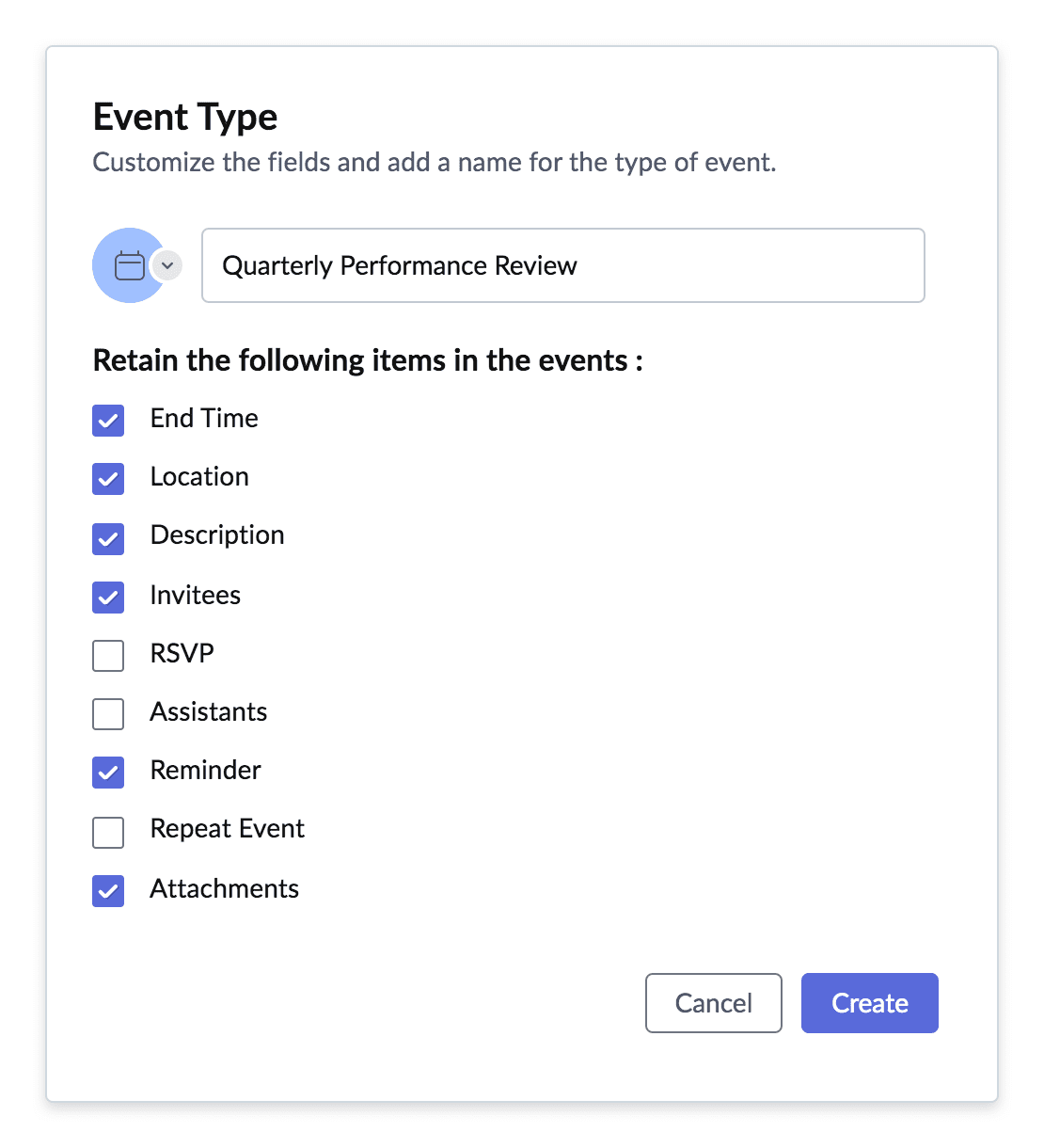 When collaboration needs to shift from a-synchronous (everyone working at their own time and pace) to synchronous (collaboration must be connected and at the same time - i.e. a meeting), Zoho Connect offers you the Team Calendar. This calendar can be integrated with your organisation's calendar solution (Google, Microsoft, or Zoho) to allow seamless experience for the users.

Up to 10 custom event types can be created for your organisation. These event types are templates with specific settings, so you can re-use these often (for instance specific "rhythm of the business" or "ROB" meetings can use these settings.
Events can be face-to-face, an online meeting or a webinar/training. Zoho Connect integrates with Zoho Meeting to create an online event directly out of the event calendar - the online meeting is created, and the join-link automatically sent out. Similar if you plan to conduct an online training - you can link a Zoho ShowTime event directly from Connect and have the invitation go out to all group members without having to manually reconcile the attendees.
Zoho Connect is designed to integrate your teams and departments, but also with other popular applications. Not only the mores popular meeting and calendar applications, and task/project management solutions, but also development tools, file and document storage, and campaign management and customer relation ship management tools. See the list below of the current integrations provided out of the box.

Zoho Connect is part of the Zoho One Digital Business platform - see below on how you can engage with us to implement this to success in your business