If you run a business, you have email. What's left to innovate with email? This same question was posed in 2004, when Google launched GMail. The innovation Google brought to the table was: "don't browse but search your inbox". This was a massive innovation - it changed the way we handled our inbox. Now, every email provider offers similar search experience. So what is left to innovate? In comes Zoho Mail, with social engagement streams, innovative offline mode, intelligent scheduling and task management, and advanced integrations and extensibility - to name a few.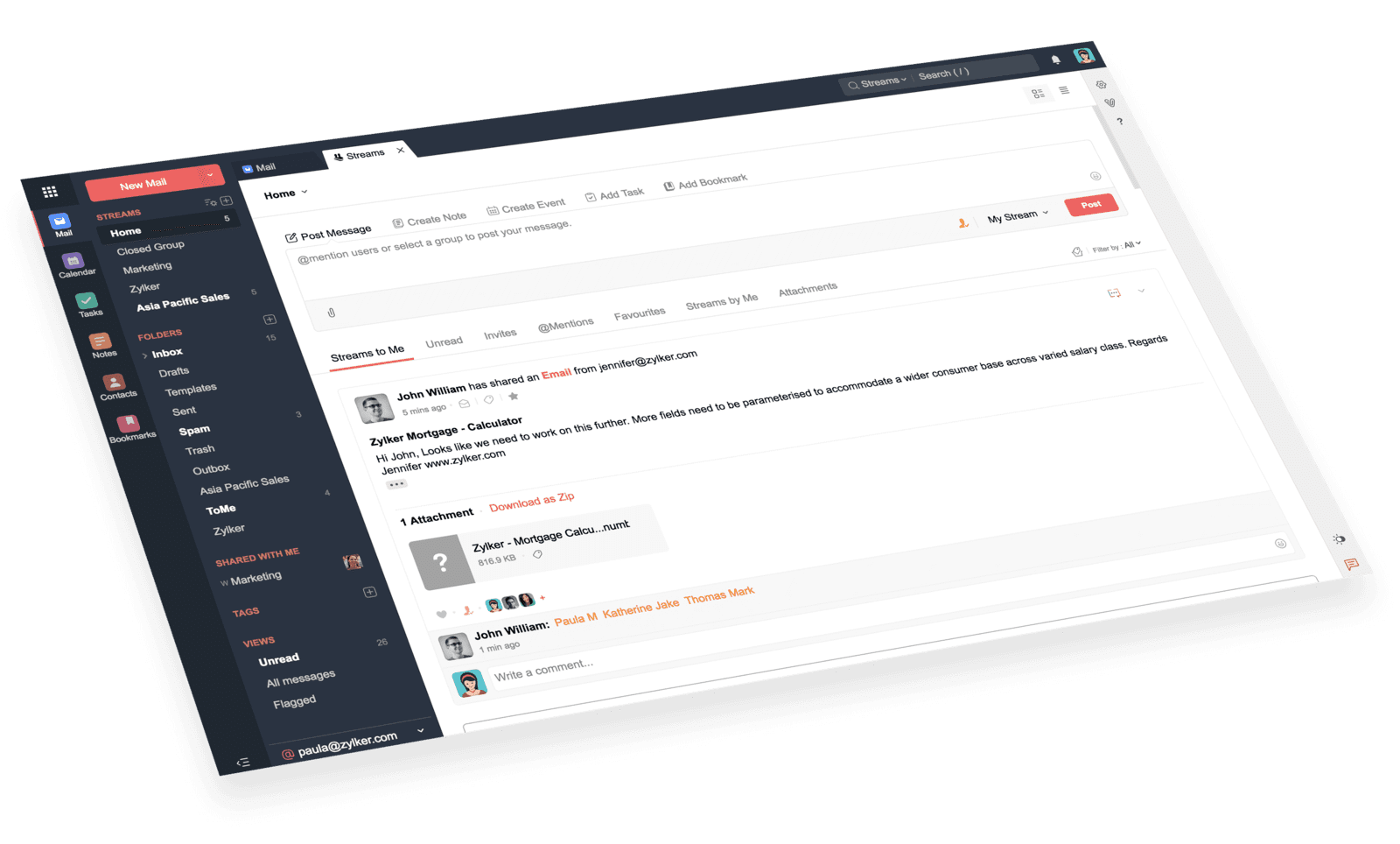 Social engagement

Until now, when you wanted to collaborate with your colleagues on an email, you needed to forward the trail - and start a reply thread. For example, a customer asks a question and you need help from a co-worker. You would forward the message, and your co-worker responds, directly, or by including even more people on the thread. If the question is complex enough, you may end up with multiple threads, and you need to distil the appropriate answer to your client. It goes without saying, a common mistake is when the email with internal comments gets accidentally forwarded to the customer, resulting in potentially embarrassing moments.
Zoho Mail introduces an email sharing system - you "share" the email with colleagues or teams, and they can respond in the feed - without forwarding the message itself. When you have the correct answer, simply respond to the customer on the original mail.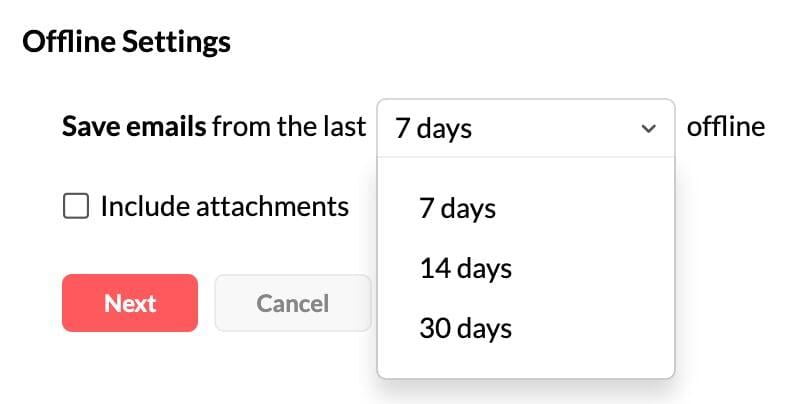 Work offline - without issues

Traditionally, you had an email client or browser access to your inbox. The email client (most popular being Microsoft Outlook) would load all the emails to a local offline profile, and in a browser you would enable "offline mode" (i.e. GMail offline - only supported for Chrome version 61 and up).

Zoho Mail brings intelligent offline mode for the browser, as well as the Desktop Lite client (Windows, Mac, Linux) - where only the emails for the last week, up to the last 30 days are kept offline. This keeps the email client nice and lean, and prevents data corruption - while still allowing you to work on your emails when you are not connected to the internet.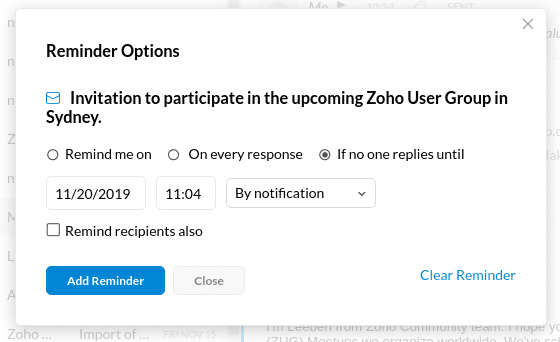 Intelligent scheduling

Your inbox fills up quickly, and it is virtually impossible to keep track of everything. With Zoho Mail, you can set intelligent reminders, allowing you to be reminded on specific dates, or when an update in the email thread arrives. Most notably, you can set a reminder on an email you sent, which will remind you only to follow up if you have not received a reply by a certain date.
When sending new emails in Zoho mail, you can select when the email is to be delivered. You can also schedule a recurring email - for example, you want to send a reminder to your team every Friday to fill out the time sheets.

Emails can easily be added to tasks, notes, and calendar as well. This is very similar to the traditional Outlook functionality.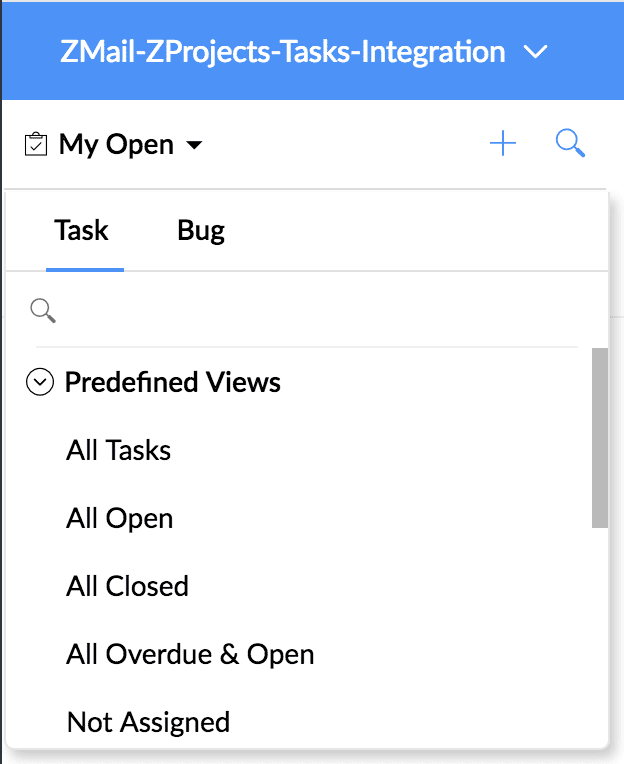 Integration and Extensibility

If you are a Zoho One, or other Zoho application user, Zoho Mail has out of the box integrations (i.e. CRM, Projects, Desk, Sign, Recruit, etc). No need to write complicated integration scripts - it simply works. Zoho also provides out of the box third party integrations, such as Zendesk., Asana, HubSpot, Trello, Clearbit, and Full Contact.

For custom integrations, Zoho Mail is the integration with Zapier and Zoho Flow. Further, you can extend Zoho Mail with Zoho Creator functionality.

Getting started with Zoho Mail

Zoho Mail is an easy to use email server and client for any platform. You can access it from a browser, from dedicated email applications for Windows, Mac, and Linux, and from mobile applications for iOS and Android. Further, you can use Zoho Mail with Microsoft Outlook with ActiveSync, see here on how to configure this.
You can get Zoho Mail as part of Workplace, or Zoho One - if you wish to trial this for free, you can sign up for either below.