Zoho SalesIQ - customer service on your website
You have invested in a website - you may have invested in SEO (Search Engine Optimisation) and content marketing. And you have your analytics running giving you insights into the demographics of your visitors, their referrals and what pages are most frequented. But what about these visitors themselves? Are you engaging with them whilst they are browsing through your pages? Do you have insight in to the pages they spend time on? Do you engage with them? Or do you just hope that they buy something, or at least leave their details so you can send them emails? Hope being a very poor excuse for strategy, here is an alternative.
Enter: SalesIQ - your customer assistance solution for your website visitors
See who is on your site (GDPR compliant), how often they are there, and what pages they visit. It is like having customers in a department store - are they looking at shoes or electronics? Not paying attention to this, results in your customers not getting the service they require. With SalesIQ, you can engage with customers when they need assistance in navigating your site to a specific product page, or need support with a product they have purchased from you.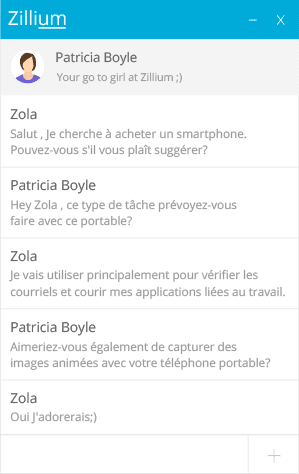 When you chat with your website visitors, you are directly engaging - nothing beats having a 1:1 interaction with your customers. You can do this for your own business with SalesIQ, or if you are providing outsourced services, you can do this on behalf of your customers. What's more, SalesIQ has the ability to translate all conversations in real-time via google translate services. In other words, both the visitor and your representative can chat in their own language - in SalesIQ itself, the chat is stored in both original and translated form.

If you use an outsourced service for your website engagement, you can provide the agents with "canned responses" - short-cuts to responses that are most used, as well as articles - a set of knowledge compiled by the organisation, ready for the agent to share with the visitor.
Training and coaching for maximum performance
If you have to train new agents, or work with a new agency that acts on your behalf, Zoho SalesIQ offers you the possibility to monitor and coach the agents at work. You can softly direct the conversation between the agent and the customer, coaching the agent to maximise customer satisfaction with the interaction.
Reporting
Whether you run your own SalesIQ instance, or you have it outsourced - you can fully understand the performance with full analytics about visitors, agents, and chats. SalesIQ lets you get these reports on demand, or have them scheduled on a periodic bases and sent to your inbox.
Other noteworthy features
Bots - empower your website with bots - intelligent conversation bots helping your customers get what they need faster, without the need for human interference. Should the visitor wish to talk to a real person, the chat can be transferred to one of your agents.
Voice - chatting too tedious? Call your visitor straight from SalesIQ - a voice conversation through your visitor's browser.
Chat from email signature - an email signature box showing the email recipient your online status - and instead of responding to the email, the recipient can choose to directly interact via chat. You can direct the chat to the sender of the email, or to the agents in a specific department.
Easy configuration - SalesIQ is easily installed on your website, where all required code is created for you, and you can even send the email with detailed instructions directly to your webmaster - straight from SalesIQ
SalesIQ versions to suit your needs - SalesIQ starts with a free plan, and scales up to the enterprise plan, enabling 25 websites with SalesIQ, with 10 operators included. What's more - there is a free trial available for you to test these features. Get started today!